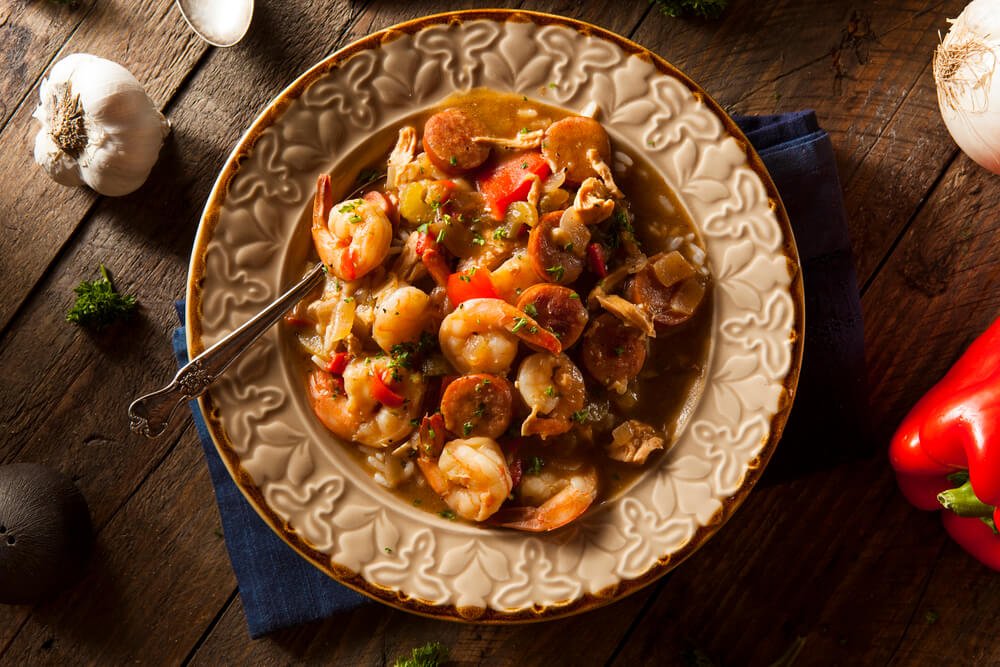 How to Make Seafood Gumbo – New Orleans Style
Eat Delicious Gumbo in Your Own Home!
Have you ever eaten Seafood Gumbo from New Orleans, but can't afford a plane ticket to eat a second helping? Want to imitate the amazing dish you had at places like the best seafood restaurant in New Orleans, Boil Seafood House, so you can eat it over and over again? Look no further than this article! I will tell you how to recreate delicious, New Orleans style seafood gumbo in your very home!
First things first, you need to pick up the ingredients.
Ingredients
New Orleans Restaurants stated that Seafood Okra Gumbo is the most popular in New Orleans loved by locals and tourists alike. They recommended these ingredients to make the best tasting seafood gumbo. It makes 6 servings or 12 appetizer servings. Here are the ingredients they recommend to use:
2 lbs of fresh or frozen shrimp
2 small blue crabs, fresh or frozen
3 quarts water
⅔ cups, 2 tablespoons cooking oil
1 quart fresh or frozen okra, sliced into half-inch rounds.
½ cup all-purpose flour
2 cups chopped onions
1 cup chopped green peppers
½ cup chopped celery
1 teaspoon garlic, finely chopped
16oz can chopped tomatoes
2 bay leaves
2 teaspoons salt (to taste)
½ teaspoon pepper (to taste)
½ teaspoon white pepper (to taste)
¼ teaspoon cayenne pepper (to taste)
New Orleans Restaurants reported that their recipe is not only delicious but also a way to transport yourself to New Orleans just by eating it. Next, we'll move on to how to make this wonderfully Southern Seafood Gumbo.
Directions
Start by peeling and de-veining the shrimp. Afterward, cover the shrimp and place in the refrigerator. Next rinse the shrimp shells and heads, placing them in a stockpot with two quarts of water. Bring to a boil, then reduce heat and simmer for about 30-45 minutes. Strain, then discard the shells and heads. Set remaining stock to the side.
While the stock is simmering, wash and clean the crabs. Put the crabs in a pot with a quarter amount of water and bring to a boil. Simmer for 20-30 minutes. Then stain it, but make sure to save the stock and the crabs. Once the crabs have cooled, snap their claws off and break their bodies in half.
Add two tablespoon of oil to a deep skillet. Add the okra and saute over medium heat for 10-15 minutes until the ropiness is gone. It may take longer if you use fresh okra.
Heat ⅔ cup of cooking oil in a Dutch Oven style pot. Add in flour slowly, making sure to mix it well as you add it. Keep stirring it until the flour turns a dark brown and smells "nutty". Then add the green peppers, celery, and garlic. Saute and stir until the vegetables are tender. An added tip for flavor: let the vegetables stick to the bottom of the pot and scrape away with a metal spatula. This allows the onions to caramelize and add more flavor to the dish.
Once the vegetables are tender, add the two bay leaves. Next, add the three peppers, tomatoes and a pinch of salt. Cook it for ten minutes, doing the onion trick with the tomatoes for added flavor. Afterward, add the okra and cook for an additional ten minutes.
Add the crab stock and ½ the shrimp stock. Bring to a boil, while stirring. Afterward, bring down to low heat, and let simmer for 30 minutes. Stir occasionally, if it is too thick you can add more stock. Add salt and pepper to taste.
Add the crab and simmer for 10 more minutes. Then add the peeled shrimp and bring to a boil. Simmer until the shrimp are pink and firm, around 5 minutes. Remove from heat.
Serve over steamed rice.
Additional Tips
Make sure to begin cooking the gumbo early in the morning, or the day before to allow time for the flavors to develop together.
When you are reheating, make sure to stir often and pay attention to the shrimp so that it isn't overcooked in the process.
Gumbo also freezes well and can be thawed out without losing its amazing flavor.
So, don't be intimidated by the sheer amount of food you'll make, because you'll have the ultimate leftovers for days to come. You can also share it with friends and family, and show off your culinary skills. Plus, earn brownie points with those hard-to-please in-laws.
The vegetables and seafood are interchangeable to your desires.
Don't feel like you have to follow this recipe exactly if you are not a fan of a specific ingredient. There are countless recipes used throughout New Orleans and many more that are made by people, like you, in their home kitchens. So, don't be afraid to stray from the recipe to use something that you prefer. You may find that your creation is even more delicious!
Ultimately, have fun with this recipe and enjoy the warmth and Southern feel of New Orleans. Share your own thoughts on how the recipe turned out, or how your own creations turned out!